Savings with Ibotta
As a mom, I love to shop for less and earn while I shop if possible.  One of my blogging friends shared information about Dealspotr in our mastermind group.   I am not a newbie to savings app as I have Ibotta loaded on my smartphone.   Ibotta allows you to earn while you shop in specific retail stores.   Typically, I use it for my grocery store runs.   While I have earned a few dollars in the past year and a half,  I find the app a bit restrictive.  You can only earn money on specific products each week.   Another feature with Ibotta that was disappointing about is the fact that the products each week are the same from retail store to retail store.     For example, whether I shop at Target or CVS I only have an opportunity to earn money on the same products.    My weekend errands include shopping at various stores because each store offers specific items.   This app  limits my earning potential each week and not using the app.
Savings with Dealspotr
On Dealspotr, I love the fact that I can connect with all of my favorite brands in one place.  If I'm out shopping on the weekend I can easily check the Dealspotr site from my smartphone for coupons and deals at top retailers or eateries in real time.  I can earn rewards and  income in a variety of ways.  This makes using the site really fun and engaging with other influencers within the Dealspotr community.  Brands can also promote their deals which gives you thousands of possibilities for savings.   As a social media influencer, Dealspotr allows you to connect with other influencers by reposting their deals, sharing on social media and following one another.    Also, there is a Dealspotr Facebook group if you have questions and concerns on using the platform.
As a member of Dealspotr,  the first step is to post deals.   You earn points by posting deals.   These points go toward earning an Amazon gift card.   For every 10,000 points earned, you are rewarded with an Amazon $10 gift card.    I find a lot of my deals from my  inbox or I  check the websites of my favorite retailers to see what is current.     Another step to getting started  is to follow your favorite stores and create a list of interests.  Interests include retail goods you have an interest in such as women's fashions, women's shoes, decor, dining, etc.   Once you get started you create will create a deal feed with your specific brands of interest.     From your deal feed, you can repost deals (sharing with your followers), share on social media or use the deal widget to share on your blog or website.  If there is a specific deal that you think has major appeal, you can spot the deal which ranks the deal.    Another way to earn points is to complete your daily checklist.   As an influencer, the network allows more earning potential and the ability to connect with other influencers.   Lastly, there is the opportunity to earn with referrals.
Ibotta vs. Dealspotr
In comparison to Ibotta, my earning potential with Dealspotr is greater.   There are no restrictions on the types of savings because there are thousands of brands and deals to choose from whenever I am shopping.  The best feature is the engagement as an influencer and the ability to grow my network with other influencers due to the community.  Dealspotr  offers opportunities to grow through the exchange of information within the community.   Also, the community is very focused on continuous improvement by encouraging members to share feedback as new features are added.
If you are interested in joining the Dealspotr community to save during your shopping experiences, you can use the link Dealspotr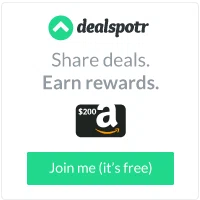 Copyright secured by Digiprove © 2016 A J